Building a solid business case for a large transformation program like Employee Advocacy, is a game changer. You'll either get support or your execs. will move on to the next request in their long que. Are you prepared to demonstrate the cost to value ratio? Do you know what motivates the key stakeholders you're going to need to sell your business case to? If you don't, the likelihood of securing the necessary resource and investment to get your program off the ground is slim to none.
Are you ready to change the game?
This week I had the opportunity to be a part of Social Media Today's webinar sponsored by Social Chorus' @nalvino called "Engaging Employee Advocates: How Electronic Arts is Activating Employees to Amplify the Brand's Message" (click to see the replay), along with Electronic Arts program manager @jroumian and our moderator @PaulDunay of PWC. 
On the webinar, we all spoke to the real and quantifiable value of Employee Advocacy programs, but none of this is possible unless you start by building a solid business case and securing the necessary investment from key stakeholders. Getting to Yes, requires that you understand what motivates these key stakeholders, in order for them to give you what you need to get the program off the ground. 
Here's a brief summary of what I shared on the webinar on the nuts and bolts of building a business case, you'll need to consider: 
Value Realization
Securing investment – Selling to internal stakeholders
Understanding Motivations
Building the Business Case
The business case for a large transformation program will require both costs and value. If you only estimate the expected value, you do not have a business case; you have a value proposition. It may be very helpful to begin by estimating only the value proposition to determine whether you should spend the effort to develop a complete business case. There is nothing wrong with that. Just be sure to develop the full business case, with costs clearly identified, before investing significant resources and energy into the program. The most common sources of value include increased revenues and decreased costs, or efficiency and productivity gains. For example, revenues can increase when employees generate more leads or conversions. Costs can decrease if employees generate conversions at a lower cost per conversions —or— if employees answer customer questions in ways that cost the brand less per customer.
Another example might be, in your marketing campaigns, you may be able to create business value by empowering employees with the skills to condition the market, to persuade potential customers, or to create consideration and preference through their authentic trust and credibility with decision makers and those who influence them.
In such cases, you may find that costs of leads, conversions, recruitment, and sales improve through your program.
In general, the business case should clearly support the current goals of the business. Such business goals typically include goals for the current fiscal year or longer-term strategic goals. While you may be able to secure a small amount of pilot funding without having to show how your program supports the official goals of the organization, programs like this are only truly successful when they scale to touch the majority of the organization. In most organizations, that level of investment will only be granted if you can show how the program contributes to the most important goals of the organization for the upcoming fiscal periods.
Let's break this down further, considering Value Realization
You should establish a method for proving the program's value over time. This is necessary for two reasons: First, you need to establish a feedback loop to help you understand whether the program is on track. Second, you should hold yourself and your team accountable for delivering the results you forecast when you requested funding for your program.
As you develop the business case, think about the ways that you will track and prove progress of the program. For all of the ways you plan to impact costs or revenues, determine how you will track that impact over time. For example, if you believe that employees will be able to generate Web traffic that leads to conversions, determine how you will measure the traffic, the conversions, and the costs of the conversions. Also remember to measure the current state of conversions and their costs before starting the program, so you have a baseline metric against which to compare.
Value realization reporting should be a permanent part of your program management activities, so you will need to plan for resources who will gather, analyze, and report the necessary data.
Next, you'll need to think about Selling to Internal Stakeholders
Getting executive support is as much about educating the executives as it is about building the business case. In this context, selling is more about consulting, educating, and enabling the executives. It's critical to know what motivates the people who can get you resources and investment required. The motivations of stakeholders may be vastly different, in addition to understanding those motivations you'll need to be clear on how your program will help them achieve their goals. Build your business case around supporting the business goals as specifically as you can and align your justification for the business case to the motivations of stakeholder across an organization that you're looking to partner with.
Understanding Motivations – To help you think through what might motivate leaders across different parts of the organization, this illustration from my book The Most Powerful Brand on Earth, describes the motivations and the metrics that stakeholders typically want to see articulated in a business case. You can find more on the nuts and bolts of building a business case for an Employee Advocacy program in Chapter 7: How to Begin.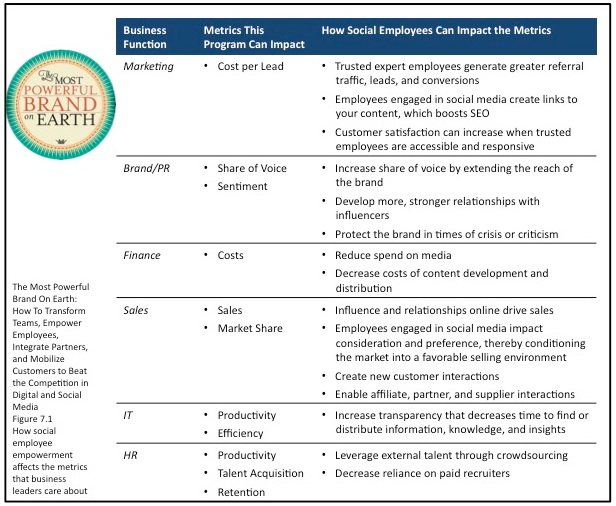 I hope these tips are helpful to you! To learn more, join us in Atlanta for the Employee Advocacy Summit. We have a great line up of speakers representing various industries, ready to show you the ropes based on their first hand experience!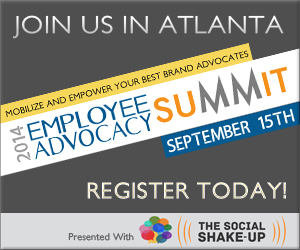 Here's a sampling of the buzz on Twitter during the webinar on #SMTlive via Storify
Originally posted at Social Media Today